Destination Activities
Activity Details
Biking Through Andalucía - May 2008, by Amanda
In May, 2008 a US friend and my mum (English) joined me on a 2 week tour of the Andalucía region of southern Spain. We not only got to put our cycling to the test but also to see Andalucía's major cities, and some of its smallest pueblos. We tried everything Andalucían including tapas, olive oil, wine and sherry, bull fighting and flamenco, not to mention the language, which seems world's different from what I have been learning back in the USA.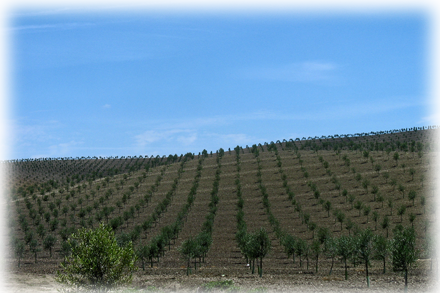 Our tour began in Malaga (I am going to exclude accents from hereon but feel free to edit them in), on the coast of Southern Spain, in the Costa Del Sol region. Its a nice place to fly into - a bigger airport and more frequent flights, from England anyway. Flying from Atlanta in the USA posed more problematic for my friend, Arlo, who also bought his bike. He stopped in Paris on the way in and had a night in Dublin (hey you can't complain at that!) on the way back. He took it all in his stride and each time his bike turned up (almost) where it was supposed to be - he actually got back to Atlanta 4 days before his bike did, but its now safe back at his house. He purchased a special carrying bag for his bike which he also strapped to his bike when we were touring.


Mum (Eleanor) and I rented bikes in Seville from CycloTour http://www.cyclotouristic.com/. They are actually a company that rent out tourist bikes just in the park in Seville but were really accommodating about helping us rent fully fitted out bikes for our trip, including collecting them from our hotel in Granada when we had finished. Ask for Fulgencio!


From Malaga we took the train to Seville and after 3 days, we began our cycle ride 30 minutes outside of seville (by bus) from the small but beautiful town of Carmona. The route was:

» Malaga » Sevilla (Seville) » Carmona » Cordoba (2 days) » Baena »
» Priego De Cordoba » Montefrio » Granada (2 days)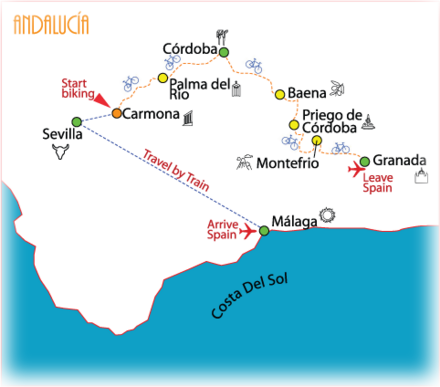 Malaga
We arrived in Malaga (mum and I) and got almost straight onto the number 19 bus which loops from the airport around the city. My web research proved flawless (at this point) as we checked off the stops on my downloaded map and arrived at our stop at the Paseo del Parque. We stayed at an average little pension called Hostal Victoria. The on-hand staff were great though, even booking a last minute room for Arlo, who I thought was going to meet us in Sevilla. We soon discovered there are 3 main beers (lagers) you will come across in Andalucia - Cruz Campo (the Sevillian beer that is currently taking all of Spain by storm and looks like it owns half of Andalucia), San Miguel (the old favourite), and the Alhambra beer (from Granada). Our first night consisted of trying many tapas and sampling the Cruz Campo which was much to my liking. The patatas bravas were gorgeous and smothered in oil and herbs!


Our first full day in Malaga lead me and mum to La Catedral [in Graeco-Roman style, on the site of an ancient Moorish mosque, begun in 1528 and completed in 1719] where right in front is a fantastic little plaze perfect for starting the day with a traditional Spanish breakfast, which is generally tostada (toast), sometimes mantaquilla y marmelada (butter and marmalade), sometimes jamon (ham), occasionally queso (cheese) or a tomato dip. Some places bring out a complementary freshly squeezed orange juice, others charge but its always worth it! For coffee lovers, my mum found great satisfaction in the cafe con leche, while i had to be more specific about getting my tea just how i wanted it (usually having to ask for the milk in a separate container lest i get warm milk with a tea bag floating around in it). Arlo, when he arrived, enjoyed the less traditional coca cola (usually pronounced "co-cola").


After breakfast we wondered through the grounds of the Cathedral. Here we came across the first of many little old ladies carrying around bits of a branch that they try to put in your hand suggesting its lucky or blessed, and then of course they ask for money. Having fallen for this 5 years ago and remembering how hard it is to get the little innocent looking lady to take back the branch once its firmly in your hand, I learnt quickly to avoid them or firmly say "NO Gracias". But i did chuckle at the other tourists looking quite flummoxed at paying a Euro for a bit of twig. The cathedral provided my first experience of something you see a lot of in Andalucia: a Plaza de Naranjas or a little square with lots of orange trees in them.


The chapter involving the Oranges
So I loved the orange trees - so pretty making so many perfect photos but why were they allowed to just drop on the floor and waste away? Surely someone wanted to eat one. On our second day in Seville we were told that these oranges aren't eaten because while they look gorgeous and smell wonderful - they taste bitter! It turns out these orange trees were originally planted for their properties that were used in gun powder making. I can't find a great deal to back up this claim and more likely the oranges were bought over by the Moors as they had a huge influence on Andalucia. Most of the oranges today are collected and shipped off to make orange marmalade, which better suits their bitter taste.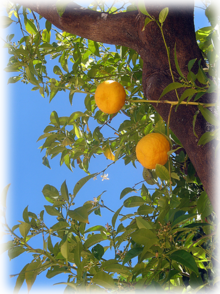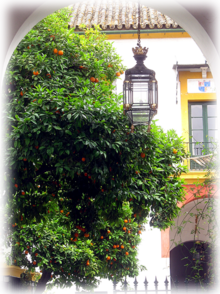 Back to Malaga... Malaga is a pretty touristy city - all menus are available in English, German, Spanish and more, in some cases. Its where many tourists begin their trip around the beaches of the Costa Del Sol. It is definitely worth spending a day or two here though to check out the Gibralfaro Castle, Alcazaba (Arabic for fortress), cathedral, harbour and beach (check out the Plaza de Toros [bull ring] and jardines [gardens] on the walk over), Picasso Foundation - Native Home Museum of Picasso and Museo Picasso.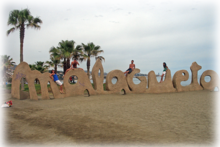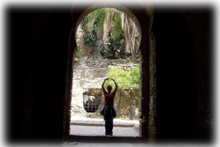 Our last night in Malaga lead us to a restaurant I had read a lot about in the tour guides and had also come listed on a locals site for Malaga: El Chinitas. Its a very traditional place with a weird Elvis-esque organ player who plays some gentle but seemingly popular Spanish songs in the background. We started by splitting the fried fish dish between the three of us, Arlo having joined us earlier in the day. Fried fish comes highly recommended as a specialty of Malaga - we weren't that impressed, one of the fish was still pretty uncooked which put us off the rest. The calamari was lovely though. We split a large pan of paella (mixta) for our entree and it was fabulous. The house wine (which was a Rioja) was also great. The downside is at the end of the night, one of the waiters or cashiers (someone who handled our bill) took out one of the 20 Euro notes we gave them and replaced it with a 5 Euro and the confused waitress assumed we had just shortchanged her. We ended up replacing the 5E note with a 20E but it ruined the experience somewhat. I hope they get that sorted out for future patrons.


The bit with the drinking teenagers
Our final night also lead Arlo to discovering a strange phenomenon in the city of Malaga. As mum and I were getting ready for rest, he knocked excitedly at my door saying there was something i had to see. We walked back out along the Paseo del Parque and soon enough came across a herd of teenagers in little groups sat on walls, leaning on boxes, set up with alcoholic drinks and snacks for the evening. They seemed to just take up a specific space on this stretch of street, starting at one end and just stopping at what seemed like an arbitrary point half way up the road. I asked some of them what was up and they explained that after 12 midnight, this was the only place they were legally allowed to drink, and they weren't allow to buy alcohol after 12 either so they all had purchased it earlier. It wasn't exactly a street party, as most of the groups kept to themselves and the ones I asked seemed kind of embarrassed about being there. Strange times in Malaga.


After our 2 days in Malaga we hiked our bags to the train station for our train to Seville. The Malaga train station is also some kind of mall with all manner of shops and stores for your perusal. We just had a coffee/tea/co-cola. Arlo still hadn't unpacked his bike so getting it on the train was relatively easy - I had read that some trains want you to store your bike separately.


It was raining when we arrived in Seville so we got a 20Euro cab for the three of us to Hostal Atenas close to the old center of Seville. The Hostal was just as I hoped and we were lucky enough to get a ground-level room (with heavy bike that is lucky) that slept the 3 of us and had a lovely shower/bath. Mum even got a double bed to herself and seemed to quite enjoy it.


Sevilla
After Arlo got his bike put together and ensure it was in working order, we headed out to see some of the town. I had a slightly rough time in Seville mainly as I have a pretty good sense of direction and it seemed to be failing me on my first night. But all was resolved when we sat down at a little restaurant overlooking the Giralda tower and had some Cruz Campos. I decided to try this oft-mentioned local delicacy in Andalucia of Bull's Tail - it certainly hit the spot as it was a hearty stew but nothing really winning. I had read about a great boat tour that happens in Summer along the Guadalquivr river at 10pm where there is all the sangria you can drink and local entertainment, so we trotted down to the meeting place, at the Torre Del Oro (a beautiful military watchtower by the river) and got on the boat claiming to be what I had read about.


I don't know if we got on the wrong boat or something but we ended up on the boat with 50 old and angry-seeming Germans. We decided to enjoy the free Sangria as frankly when you get out of the old town districts of Seville, everything else is pretty standard of a city. After the boat ride we met some Atlantan students (where I currently live!) by the big plaza in front of the Giralda and after stopped in local tavernas while heading back to our Hostal, which remarkably, we found.


The Sights of Sevilla
We joined a bus tour of Seville where we could get a really good overview of all the sights the city was offering. It was about $15 a person and we all agreed it was worth every penny.


The city's cathedral (built from 1401-1519 after the Reconquista on the former site of the city's mosque). It is amongst the largest of all medieval and Gothic cathedrals, in terms of both area and volume. The Cathedral reused some columns and elements from the mosque, and, most famously, the Giralda, originally a minaret, was converted into a bell tower. It is topped with a statue, known locally as El Giraldillo, representing Faith. The tower's interior was built with ramps rather than stairs, to allow the Muezzin and others to ride to the top.


The Torre del Oro was built by the Almohad dynasty as watchtower and defensive barrier on the river. A chain was strung through the water from the base of the tower to prevent boats from traveling into the river port.


The Alcazar facing the cathedral has developed from the city's old Moorish Palace - we missed this - may I recommend one MORE day in Seville as there is a lot to see. I had seen this previously and it was beautiful.


Parque Maria Luisa, which was built for the 1929 Exposición Ibero-Americana World's Fair, and remains landscaped with attractive monuments and museums. Its also where we picked up our rental bikes for the rest of the trip from Cyclotour's bike stand there.


The Flamenco
Andalucia is said to be the place where Flamenco dancing began and evolved, although each city claims its own stake in that process, Seville is oft-named as the first city of the beautiful Music/Dance combination. As part of our Bus Tour ticket, we also got two free walking tours of Seville, one around the main historic area, and one around Triana. Both were fantastic but I would recommend doing the Triana one on a week day as many of the ceramics places they try to take you to are closed on the weekends. While we were on the old quarter tour, we went through an old Jewish district where I spotted a low key looking venue for Flamenco, Los Gallos. I rushed over and bought tickets for that night and later, after some tapas and beers at Bar Giralda which has a lovely view of the plaza in front of the Catedral, we attended our first Flamenco in Andalucia.


Arlo, our group photographer, had a feast of a time taking photo after photo of the elegant, monumental dance routines we experienced, while we poured red wine down our necks. The location was small and the stage large enough for the 4 musicians (guitar player, singer and usually 2 palmas (hand clappers)) and the dancer to have some maneuverability. When a singer or player or dancer does something the croud (and other musicians) approve of, we all shout "OLE" and the passion in the room boils. As we left, we all felt great, the atmosphere with friendly wait staff as well as each having our own personal interaction with one or more of the musicians, left us feeling flushed with excitement. We stopped at another bar getting closer to our hostal before crashing after a great day.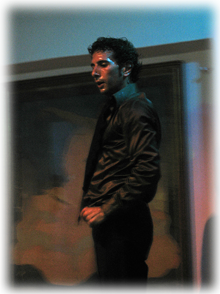 Our last day, among many things, was going to be our group's first experience of bullfighting, and a second show of flamenco. As the bullfighting event got closer, I stopped thinking about the reasons I had first been excited about seeing it - the cultural history and so on - and started to feel guilty thinking of my dog back home and how I would feel seeing him in a fight situation. The bull arena never filled - maybe bull fighting isn't that popular anymore - or maybe it was the weather, it rained on and off throughout the first fight, which we left after. Going to see a bullfight is something you should do if you think you can stomach it, but for me, I just couldn't believe the gutless manner in which the torreadors and matadors conducted themselves. By the time everyone was cheering when the main matador came on to kill the bull, the bull had faced over a dozen men, some on horses, and he had all sorts of swords and sharp pointy things stuck into his major arteries. Its a shame the bull doesn't really have a chance because I was rooting for that beautiful fella the whole way through.


Our second go at Flamenco was at Al Arenal, which we had already guessed by all the pamphlets advertising them, would be a more touristy show than our previous night. We were correct and while the performers were good the overall cosy feeling of being welcomed into a very special experience was absent, especially as some people were eating meals at the same time which required the costant tending of waiters, which is very distracting to those purely interested in the Flamenco.


Carmona
The journey from Sevilla to Carmona was the day I had the most stress in this little shindig of ours. But it was also a very rewarding day. The plan was simple: Get up at 8:30, eat, pack, leave and get the bus form Seville to Carmona, have lunch and tour the town before starting our cycling part of the day to Palma Del Rio.


There are a few things that went awry to prevent my plan going quite as smooth as I had hoped. Arlo was a little uncomfortable on his bike, having never tested his gear-rigging system before, and because Spanish bike shops had been perpetually closed over the last few days, he had been unable to get normal pedals and still had his racing clip on pedals that didn't make for good city cycling, among other things. Arlo needed to do his bike thing, so we arranged to meet, already way off my first schedule.


Meanwhile, Mum and I got to the bus station, a short ride from our hotel to find little information available on the bus to Carmona. I had checked my instructions received from online and I said I was at the right place. The information office was temporarily closed for 15 minutes and had been for an hour so finally I asked a friendly cop who advised me that the Carmona buses don't actually leave from the bus station and leave at the other side of the park from the bus station.


The bus stop to Carmona looked like a very local bus and I was starting to doubt we'd be able to get our bikes on it, especially when two onlooker bus drivers were laughing at us!! Finally the bus turned up and I begged and pleaded with the driver to let us on, and he OK'd it, as it really made little difference to him anyway. It was 3E and some of the zaniest entertainment some folks had seen in a while. We were only able to put our bikes in the rotanda area (rotating section) of the bus that connects the back end to the front and this completely blocked the path of all the locals trying to get to their seats. One man was grumpy and poked Arlo all the time while shouting generally about what a disruption we were being (ha!) but most others got the funny side and laughed as they struggled with bags of groceries and flowers to get past.


Finally with much relief we got our bikes off in Carmona and found a little bar to enjoy a drink and some simple home made tapas. It was a very "old man" bar, which the more we traveled through Andalucia, the more we saw. I had planned for us to have a good old tour of Carmona - a town rich in Roman history and some beautiful buildings to prove it - but instead we cycled on through and started out bike journey! I got some quick photos as we stopped one last time before getting on the A457 - Carretera de Lora (towards Lora Del Rio).


Palma Del Rio
Cordoba
Baena
Priego De Cordoba
Montefrio
Granada