General Information
| | |
| --- | --- |
| Languages : | Filipino (official; based on Tagalog) and English |
| Currency : | Philippine Peso (PHP) |
| Time Zone : | EST +13hrs |
| Capital City : | Manila |
| Population : | 91 Million |
| Government : | Republic |
| Total Area : | 115,830 mi² |
| Climate : | Tropical marine; northeast monsoon (November to April); southwest monsoon (May to October) |
| National Holidays: | Independence Day, 12 June |
| Additional Info: | The Philippines is made up of 7,107 islands. The world's longest underground river system accessible to man can be found at the St. Paul National Park in the province of Palawan. |
Destination Activities
Activity Details
The Philippines is an archipelagic nation located in Southeast Asia, with Manila as its capital city. The Philippine Archipelago comprises 7,107 islands in the western Pacific Ocean. The Philippines is divided into three island groups: Luzon, Visayas, and Mindanao. Note - Using credit cards often attracts a surcharge of around 7% to 10%.


Scuba Diving
More than 7,000 islands of lush tropical greenery, ringed with unspoiled beaches, are scattered around these deep-blue waters; waters which offer about 15,500 sq. miles of coral reefs teeming with a wide variety of marine life. Diving here is year round; however, the best time is generally December to April. July to September is the monsoon season. The hottest months are April, May and June with temperatures over 90 degF. The wind swings from NE to SW for June, July, August and September and this opens up some places that are not so accessible for diving in the drier months. Water temperatures are 80 to 88 degF the rest of the year. The water is clearest during March to May. From north to south and in all three major islands (Luzon, Visayas, and Mindanao), dive sites mark the coasts.


Luzon
Luzon is the largest and most economically and politically important island in the Philippines and one of the three island groups in the country, with Visayas and Mindanao being the other two. Located on Luzon are the country's capital, Manila, and its most populous city, Quezon City.


» Subic Bay is a bay forming part of Luzon Sea on the west coast of the island of Luzon, about 62 miles northwest of Manila Bay. Subic Bay is quite a unique place to dive. Aside from the usual spectacular sights underwater - sharks, dolphins, turtles, stingrays, and others - there is a bonus of seeing and (when careful) touching remains of World War II ship wreckage. There are around 30 reef dive sites and 30 wreck dive sites. Subic Bay is a two-hour drive from Manila on the North Luzon Expressway. Dive centers dot the Subic coastal landscape and each are just minutes away from reef and wreck dive sites.


» The wreck dive sites are mostly World War II vessels - huge war or battleships, supply ships, sea patrol boats, landing amphibians, antique steam ships, some submarines and crashed planes. But there are more. Post war incidents of ship sinking occurred there. There are some ten large ships added to the wrecks of the war. Accordingly, somewhere there is the San Quintin vessel, a warship in the Spanish-American War. Another is a Spanish galleon believed to have sunk in the 16th century and a Chinese Junk ship. Among the historic wreckage is the 381ft USS New York in a depth of about 90ft. This warship was built in 1891 in Philadelphia and was greatly used in the Spanish-American War. It was intentionally sunk in December 1941 to prevent the Japanese from capturing it.


Located near the internal channel marker of Ilanin Bay, the El Capitan Wreck Dive Site is one of the most breathtaking venues in Subic Bay. It is a small freighter weighing 3,000 tons and measuring about 427ft in length. The vessel crashed below Ilanin Bay. Its stem lies just 16ft below the surface while its bow is situated 66ft depending on the tide.


» Puerto Galera is known for fine sand beaches, the blue sea, tourist hotels and inns, sea foods and delightfully grilled sea-side cuisine, and its unique wildlife and lush forest. Divers frequent the Puerto for pristine diving alcoves in different spots of the province.


Visayas
Divided into three separate regions, the Eastern, the Western and the Central Visayas, it is an area in fact made up of seven major islands (Palawan, Panay, Negros, Cebu, Bohol, Leyte and Samar), and a series of smaller islands. Some of the best scuba diving in the Philippines can be found in the Visayas, and in particular areas such as Boracay Island, Cebu City, Bohol and Moalboal house some truly fantastic dives sites.


» Pamalican Island, located 14 miles east of Balicasag Island is a great dive site for those wishing to encounter the large manta rays that inhabit the area. "Pamalican" translated literally means the "resting place of the mantas" and given the large number of mantas that are to the found in the waters surrounding Pamalican Island, it is easy to see why. Outside of these mantas, Pamalican Island has a lot of other marine life and coral to offer, and despite its more remote location, it certainly worth a visit.


There are more than 30 dive sites as well as adventure dive safaris surrounding Boracay Island and the neighboring islands ideal for beginners and experienced divers. Some of which are listed below:


» Yapak (Wall from 115 to 200ft) - This can truly be a world class dive. Caves and overhangs house an amazing abundance and diversity of marine life, including sharks, schools of barracuda, tunas, surgeon fish, sweetlips, napoleon wrasse, groupers, jacks, large eagle rays, sea snakes, and giant barrel sponges. Only for advanced divers, good air consumption is a must as strong currents and a dive through the blue require a rapid descent.


» Bat Cave (20ft) - Dived only in calm conditions, strong current presence, it is called "Bat Cave" due to the fact that it is actually connected to the large cavern of the actual bat cave, which is accessible from the outside. It is definitely an ideal site for cave dive specialty course. You can only dive this site when the sea is calm since the waves are pounding within the cave itself. It is definitely a challenging dive. Caves are worth exploring. Sea snakes and lobsters can be seen in different sizes.


Climbing
The Cordillera Central is a massive mountain range situated in the northern central part of the island of Luzon. Gran Cordillera is the highest and largest mountain range in the Philippines


The highest point is Mount Apo on Mindanao at 2,954m (9,692ft). There are many active volcanoes such as Mayon Volcano, Mount Pinatubo, and Taal Volcano. To climb Mount Apo, from the jump-off point at Lake Agko, 3,937 feet above sea level, the trail winds up the canyon of the swift-flowing Marbel River over rocks and boulders, jumping from stone to stone for a total of 13 crossings. Along the way you will see an exotic display of nature at its best -- lush tropical forest dotted with hot and cold springs; the crystal clear and the boiling blue mountain lakes; hidden waterfalls cascading with thunderous roar; sulfur craters; orchids and wild flowers; monkey-eating eagles; the soul-refreshing symphonies of cicadas and God's littlest creatures, and all - truly an exceptional display of nature in its primeval state.


The Chocolate Hills are an unusual geological formation in Bohol, Philippines. It is composed of around 1,268 perfectly cone-shaped hills of about the same size, spread over an area of more than 50 square kilometers. They are covered in green grass that turns brown during the dry season, hence the name. The large and numerous perfect domes vary in sizes from 100 to 165ft high with the largest being 395ft in height. Aesthetically extensive, they are scattered throughout the towns of Carmen, Batuan and Sagbayan in Bohol.


Trekking
» Silay City in the province of Negros Occidental, is close to a great hiking destination around Patag. Nestled at the foothills of Mt. Mandalagan and Mt. Marapara is a small village of Patag. Today the village of Patag is for nature enthusiasts and outdoor buffs. Situated at a cool elevation of nearly a couple of thousand feet above the sea, Patag is the last frontier of the Japanese Army that surrendered in Negros Island. A Historical Hospital is also in the site. The area is flat among the other hilly surrounding area, thus the illonggo word "Patag".


» Patag has become a War Memorial destination for the Japanese where, during the last war, some 6,000 Japanese soldiers died in the midst of its wilderness. It is believed that in this area that soldiers and people who died during WWII where buried (so basically dozens of ghost stories can be heard from the guides and locals). This is also the jump off point of the hike going to Tinagong Dagat or Mount Mandalagan.


This area is also a good starting point to head to a waterfall called "Pulang Tubig". Patag boasts several beautiful waterfalls, a variety of flora and fauna, and a host of other natural attractions and of home of the Philippines spotted deer. An adventure trek to Patag is pleasantly memorable as well as a challenging physical experience - look out for the skyline ride.


Photography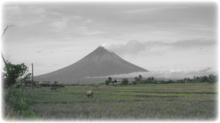 If you have adventure-travel related experience in this region and would like to add content to this page, please contact us to learn how.