General Information
| | |
| --- | --- |
| Languages : | English, English patois |
| Currency : | Jamaican dollar (JMD) |
| Time Zone : | EST |
| Capital City : | Kingston |
| Population : | 2.7 Million |
| Government : | Constitutional parliamentary democracy |
| Total Area : | 4,243 mi² |
| Climate : | Tropical; hot, humid; temperate interior |
| National Holidays: | Independence Day, 6 August |
| Additional Info: | The Rastafari movement was founded in Jamaica. "Irie mon" is a phrase commonly heard in Jamaica. It means, "cool" or "everything is going good". |
Destination Activities
Activity Details
Fishing
Visiting fishermen/women have a chance at landing blue and white marlin, wahoo, tuna and dolphinfish in deep water with drops to thousands of feet beyond the reefs. Fishing grounds encircle the island and larger blues are usually caught between summer and fall. Although they diminish in size, blues are present year-round.


Jamaica also hosts two international fishing tournaments, the Jamaica International Fishing Tournament and Jamaica International Blue Marlin Team Tournament. Both tournaments take place in the early fall, September and October, so travelers interested in fishing may want to take this into consideration.


Bonefish are the region's shallow water fish and are said to be the best fighters of all fish, pound-for-pound. Their species includes Jamaica's popular tarpon, wahoo and barracuda. Bonefish can be caught from the beach or from a small boat in many of the area's shallow waters.


Climbing
Blue Mountain Peak is the highest mountain in Jamaica at 7,402ft. The John Crow Mountains extend parallel with the short eastern coast of the island, bounded to the west by the banks of the Rio Grande, and joining with the eastern end of the Blue Mountains in the south. The highest point in the range is at 3,445ft.


Hiking
The traditional Blue Mountain trek is the 7-mile hike to the peak, a 3,000ft increase in elevation. Jamaicans prefer to reach the peak at sunrise so the 3-4 hour hike is usually undertaken in darkness. The unfolding dawn is very beautiful and on clear mornings, expansive views capture both the north and south coasts. It is well worth the effort although the garbage and graffiti on the little cabins at the top are a disappointment. It is safer to hike in the Blue Mountains during the dry period from December to April as its numerous, rapidly flowing rivers create floods and landslides during heavy rains. It is also the time when the rest of the island is most comfortable.


Photography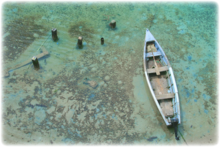 If you have adventure-travel related experience in this region and would like to add content to this page, please contact us to learn how.