General Information
| | |
| --- | --- |
| Languages : | English, Spanish or Spanish Creole, French or French Creole |
| Currency : | US dollar (USD) |
| Time Zone : | EST +1hrs |
| Capital City : | Charlotte Amalie |
| Population : | 108,000 |
| Government : | N/A |
| Total Area : | 737 mi² |
| Climate : | Subtropical, tempered by easterly trade winds, relatively low humidity, little seasonal temperature variation; rainy season September to November |
| National Holidays: | Transfer Day (from Denmark to the US), 27 March |
| Additional Info: | Three of the main islands have nicknames often used by locals: "Rock City" (St. Thomas), "Love City" (St. John), and "Twin City" (St. Croix). |
Destination Activities
Activity Details
Scuba Diving
The U.S. Virgin Islands consist of the main islands of Saint Croix, Saint John and Saint Thomas, along with the much smaller but historically distinct Water Island, and many other surrounding minor islands. The total land area of the territory is 133.73 sq mi.


They say St. Croix has some of the best diving in the Caribbean. There are 12 or so popular sites but more than 30 to choose from. A couple of favorites are detailed below:


On the west side, Frederiksted pier is a shelter for the weird and wonderful. Here you might see a seahorse or a frogfish, or an octopus scrabbling around at night. A night dive is essential at this location. The west is also where you will find most of St. Croix's wrecks. One site comprises five wrecks, although it takes two dives to see them all.


Cane Bay wall - here the ocean floor just plunges away into the abyss. The famous Cane Bay Wall drops from 40-3,200 ft. This area offers several different dive sites from an easy beach entry. A night dive along the wall is an experience not forgotten and the photo opportunities are fantastic.


St. Thomas Island has over 80 dive sites to choose from including wrecks and reefs. Wreck Diving: St. Thomas has the monopoly on wreck diving. All the wrecks are quite modern, though some already have impressively thick marine life growth.


Fishing
The famous North Drop, easily accessible from St. Thomas or St. John, is the spot for major gamefish. It is famed for marlin fishing and said to produce more blue marlin bites per boat than any other place in the world. Marlin bites are most common from May-October. Although these months are the best time for fishing marlin they can be caught all year round.


Photography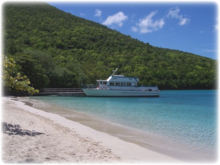 If you have adventure-travel related experience in this region and would like to add content to this page, please contact us to learn how.